Asahi DRY ZERO
Product information
Asahi DRY ZERO, launched by Asahi Breweries, Ltd., in February last year, is a non-alcohol beverage that tastes like beer. DRY ZERO underwent significant quality developments in September this year, improving the "foam sustainability" to give the enjoyment of a creamy foam and a wonderful taste resembling beer, while realizing zero calories* and zero carbs*, satisfying beer drinkers particular about taste and people concerned about calorie and carbohydrate consumption.
* Zero calories are defined as energy under 5kcal (per 100ml) and zero carbs are defined as carbohydrates under 0.5g (per 100ml), according to the Nutrition Label Standards.
Win Asahi DRY ZERO in the launched "original design cans from the 43rd Tokyo Motor Show 2013"! Campaign!
Asahi DRY ZERO launches a public campaign with a very sought after prize, consisting of the "official beer taste drink of the 43rd Tokyo Motor Show 2013", Asahi DRY ZERO, in the original design cans of the Tokyo Motor Show, featuring the city scape with silhouettes of the venue "Tokyo Big Sight", as well as "Tokyo Skytree®" and "Asahi Group Headquarters Building". A total of 300 winners will be drawn to receive a "43rd Tokyo Motor Show 2013 Original Design Can Twin Pack" and you are invited to apply!
Details on the application period and method » provided here.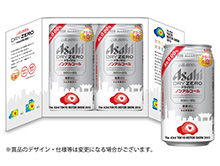 Proactive awareness with implemented action to prevent drunk drinking.
• Visitors to our plants are asked if they drove to the venue and if they are driving they are given a "drunk driving prevention badge", so that they will not be offered product tasting.
• The catering establishments of the Asahi Group serving beverages display posters calling to stop underage drinking and drunk driving. Menus also declare that no alcoholic beverages will be served to underage persons or designated drivers, to prevent drunk driving.
• Proactive awareness is implemented through action in television commercials, as well as advertisements in newspapers and magazines, along with posters displayed in catering establishments.