TOMY COMPANY, LTD.
Company's outline
TOMY is a comprehensive toy and toy descendent content manufacturer that produces toys in a wide variety of genres and character types for people of all ages and nationality. Generations of families have enjoyed our all-time favorites such as Tomica, Plarail, Licca, and Choro-Q, and such toys as Beyblade and Transformers have become a big seller and have created a social phenomena.
TOMY's ability to adapt to the changing age symbolizes our role as the toy maker of the 21st century. To that end, we will continue to provide people all over the world with "new value of amusement."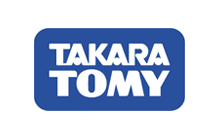 TOMY COMPANY, LTD.
9-10 Tateishi, 7-chome, Katsushika-ku, Tokyo 124-8511, Japan
Phone: 03-5654-1280 (Corporate Communications Department)
Welcome to the world of TOMICA
The Tomica lineup is continually being refreshed with the release of a new model on the third Saturday of each month.
At The 43rd Tokyo Motor Show 2013, we release 12 special commemorative Tomica !
Additionally, we hold pre-sale of Dream Tomica and Disney Motors which are really featured toys.
* Pre-sale toys will be finish when its sold out.
Further more, you can get your Facebook icon with your photo and Tomica original flames at our booth.
At the end, big Tomica diorama will be waiting you!
Let's enjoy the power of Tomica at The 43rd Tokyo Motor Show 2013!!