World premiere
Parts, Machinery and Tools
Car Mate Mfg. Co., Ltd.
Booth No.E2104
DriveMate +NAVI
This app integrates existing car ahead detection app technology and drive recorder app technology with a new AR navigation function. [Vehicle ahead detection function]Images of the car ahead taken using the iPhone's camera are analyzed.The app judges whether you are driving at a suitable distance from the car ahead according to speed, and indicates the results as a 3-color AR display. It also notifies you when the car ahead starts driving after stopping at a red light.[Drive recorder function]This app records video for 10 seconds before and after an impact occurs. Video can also be recorded manually.[AR Navigation function]Frequently used items such as destination and arrival time are shown in large, simple displays for ease of viewing. When approaching a guidance point, AR markers emphasize the direction information and a map is automatically displayed on the right side of the screen. [Community Game]
d-SafetyCam
The device streams the video to your smartphone or tablet over wireless network. The front vehicle recognition app such as DriveMate SafetyCam is expected to use with this device. It can also be used for monitoring. User can set the smartphone wherever they want. it has big flexibility because app doesn't requires smartphone camera. Example of combination with image recognition app demonstrating center of the booth, inside of the car. d is abbreviation of DriveMate Connect and means devices which connectable with app.
RoboHolder
Robot type next-gen smartphone holder can hold your smartphone and charges it automatically. Display direction adjusted by operating touch panel. When holder is not used, hides itself in the car. Demonstrating center of booth, inside of the car.
RoboTray
Robot type next-gen cup tray, keep your cup horizontal though road conditions and acceleration of the car. Demonstrating center of the booth, inside of the car.
αSafetyCam
αSafetyCam app also has feature of front car recognition as we developed for DriveMate SafetyCam app. In addition αSafetyCam app can recognize traffic signs and traffic signals. In this exhibit, you can experience red signal recognition and excessive speed triggered fragrance sandblast.
d-OBD
The device obtains various information of vehicles OBD2 connector and transmit to smartphone over Bluetooth. App lets you check the vehicle information in various styles. Obtained vehicle information count is 8 times more than existing product of DriveMate Connect DX500.
TS Tech Co., Ltd.
Booth No.E2107
"Aibou" Seat,Seat that Recognizes You
Aibou seat is created by Za laboratory (Za=Sitting), one of our activity for product development. Through Za laboratory, we examine the science and philosophy behind "Sitting Down."We would like to understand the passenger and to suggest the passenger's ideal "Suwaru (Sitting down)" with Aibou seat. As a first step, we have developed a prototype of Aibou seat which detects somatotype and posture of a passenger, and adjusts each device for the passenger.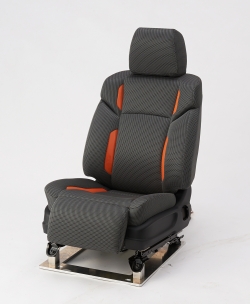 Drowsiness Reduction Seat
Ultra-Lightweight SEAT FRAME
Amazing Seat for a Motorcycle
Mitsuba Corp.
Booth No.E2108
Active Force Pedal Actuator
Actuator used in the system to support fuel-efficient and safe driving, which prevents too much pressing down on the accelerator and warns the vehicle operator that his/her car is getting too close to the car ahead by giving a reaction force to push back the accelerator pedal.
Drive Unit for Light Electric Motorcycles
Drive unit for light electric motorcycles composed of an integrated combination of a small-diameter, flat-shaped, high-efficiency and less-rare-earth DC brushless IPM motor and a gear reducer.
Hitachi Automotive Systems, Ltd.
Booth No.E2202
144V output lithium-ion battery pack
Utilizing the performance of compact and light lithium-ion battery pack to the full, and achieve HEV battery pack including battery management systemTo make necessary function into one pack by installing high voltage relay, current sensor and SD
Stereo Camera for Next Generation EyeSight
Realizes advanced braking control by use of color imager / brake lamp recognition. Achieved 40% wider angle and longer range by performance increase.
HEV Motor
Rectangular wire winding realizes high torque density and high efficiency. Reduction of torque ripple
ESC-Boost
Zero vacuum brake system which has ESC and re-generation functions for small vehicle. It can be upgraded to re-generation brake system without additional hardware. Easy to expand to ITS by silent and high durability unit.
Jatco Ltd.
Booth No.E4001
Future CVT concept model
EV Comuter "Q'moⅡ"
The "Q'mo" drew attention at the last Tokyo Motor Show. New advanced "Q'moII"has the features of Q'mo's "Pivot Turn" and "Lateral Move" which are the characteristic of the car with In-Wheel Motor. In addition, we have improved overall car body structure and steering system in order to be functional vehicle. Q'mII achieves the maximum speed 60 km/h, because it was greatly improved driving stability. It also has enough space which two adults sit side by side in a compact body by the in-wheel motor. NTN has the concept of a vehicle that can be easily used for the short distance moving such as shopping to the neighborhood and picking children up to the station.We are represented fun and convenience of In-Wheel Motor EV by the actual movement of the Q'moII.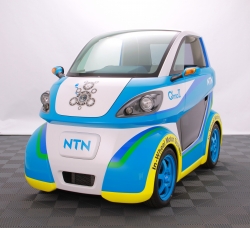 Rear-Wheel independent steering system
Rear-wheel independent steering system controls left and right wheel steering independently, mechanically disconnected from front steering mechanism. Steering shaft consists of two rods connected by screw, which has variable length depending on engaging screw length. This system is combined type steering which steers rear wheel of both side collectively, and yet it can perform toe angle control as well as same phase / opposite phase steering with front wheel. It does not affect unsprung weight because the system is fixed to vehicle chassis. And also, rigid connection between both sides can balance steady load from left and right, by compensating each other. It contributes to improvement of motion performance of next-generation vehicles such as internal combustion engine vehicle and EV-HEV, by controlling rear wheel by-wire and in coordination with front wheel steering.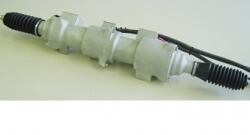 High performance deep groove ball bearing for transmission
High-performance deep groove ball bearing for transmission created by three new technology① High thrust load deep groove ball bearingThis bearing provides an optimum shape for bearing ring grooves, and the use of a newly designed assembly cage increases the thrust load capacity of standard bearings.② Self-formed seal low torque deep groove ball bearingSeal of this bearing form a minute gap between the inner ring and seal during the initial stages of bearing operation by optimal seal design and improvement of rubber material composition. These designs prevent penetration of foreign objects into the bearing that reduce its operating life, while also achieve the torque equivalent to the non-contact seal.③ Enhanced anti-indentation technologyThis technology has reduced the Brinell Indentation depth to 1/2 compared to that of standard heat treatment.The possibility of substituting from taper roller bearing and significantly lower torque increases by this technology.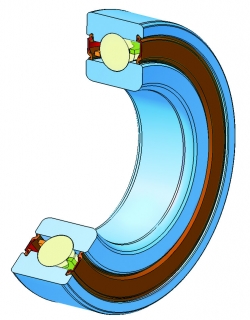 Ball-Screw Drive Module for Electric Hydraulic Brake
Ball screw drive module that combined with support bearing and the powder metaled component parts etc.. The Ball screw drive module converts accurately rotational motion of the motor into linear motion in order to obtain the accurately hydraulic brake force.By using the strong points of the ball screw, our goal is to improved vehicle running range expansion.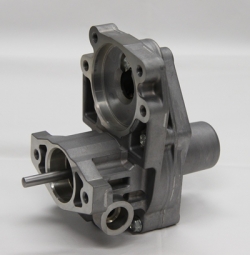 Hollow Ball-Screw Unit
A hollow ball screw unit is developed for CVT application for next generation. Features of this product will be more than 70% conversion efficiency (rotation to Linear slide force) and 20% smaller nut diameter. This new unit has typical feather for light weight and compactness, especially it could eliminate one key-component "Deflector" of previous design, as a result, it obtains lighter weight and compactness design.This new unit will be used for pulley width change purpose of CVT, and contribute for good fuel economy. Additionally, it will be contributed lighter weight and compactness of entire CVT system.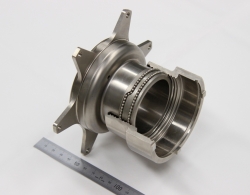 Extremely High-Speed Planetary Needle Roller Bearing
Special coating for cage in planetary gear sets, to adjust bearings to ultra high rotational speed.Achieved increasing rotational speed of pinion gears by two times compared to standard bearing or 1.5 times compared to conventional high-speed-bearing, and adjusts bearings to multi-step AT and contributes to higher efficiency of HEV.
Advanced Assist Steering
The advanced steering assist tecnology where the controls of the electric power steering and the wheel hub motor are integrated. A demonstration of automated driving and emergency avoidance assit will be shown, utilizing the quick response of the wheel hub motor.
Gearbox and ECU integrated column type EPS
The integration of the ECU and gearbox enables to eliminate the heat sink and to reduce the weight. The ECU is further downsized so that it can be equipped to the system of mid-size vehicles where the conventional ECU's cannot.
Sonic Design Co., Ltd.
Booth No.W1201
SonicPLUS AUDI A4 model
77mm Super Bass Module "B80N"
Latest generation super bus module of premium line ( subwoofer ). Compact design A4 size of 69.5mm thickness (297 × 210mm) is around 30% slim than previous model. Full monoblock aluminum die-cast enclosure Sonocast ARMS is first adopted in a Premium Line. It is easy to also mounted in a limited space, such as a luggage compartment or under the seat. With only 77mm diameter woofer unit, pursue the Premium Line all-time high accurate deep bass sound by a high rigidity and low resonance characteristics of Sonocast ARMS .
77mm Super Bass Module "B80R"
Latest generation super bus module of premium line ( subwoofer ). Compact design A4 size of 69.5mm thickness (297 × 210mm) is around 30% slim than previous model. Full monoblock aluminum die-cast enclosure Sonocast ARMS is first adopted in a Premium Line. It is easy to also mounted in a limited space, such as a luggage compartment or under the seat. With only 77mm diameter woofer unit, pursue the Premium Line all-time high accurate deep bass sound by a high rigidity and low resonance characteristics of Sonocast ARMS .
Ikeya Formula, Co., Ltd.
Booth No.W3001
     IF02RDS
Ikeya formula has developed a seamless shift transmission which is based on a regular single clutch manual transmission. This system is not only cheaper but also much simpler and weighs less than a twin clutch transmission.However, the Ikeya seamless shift transmission has the same acceleration characteristics as a twin clutch transmission. It can be used in both automatic and manual transmissions.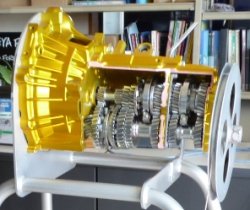 Sanden Corp.
Booth No.W3002
Ultra Light & Compact Air-Conditioning Compressor
The lightest & smallest compressor in the world with best volumetric efficiency scroll technology
Ultra Light & Compact HVAC
Unique Compact HVAC to cover from sub-A to C segment. Best in Class in Size and Weight
Rankine Cycle System
Vehicle waste heat recovery system. Ir recovers Exhaust Energy as either electric power or shaft power and cotribute to Fuel saving and CO2 emission reduction. The feature is Light and Compact.
Heat Pump System
Best-in-class efficiency in heating and cooling mode. High contribution to energy saving of electric vehicles
Electric Compressor
Best-in-class Efficient & Silent Electric Compressor in the World.
Electric Coolant Heater
Best-in-class Light & Compact Electric coolant heater
PX compressor (Externally Controlled Variable Type)
Best-in-class Light & Efficient Compressor
SN Series Compressor (Externally Controlled Variable Type)
The lightest, smallest and high efficiency external controlled variable compressor with new mechanism. For Small and Middle size vehicle.
Light & Compact HVAC Unit, adapted to Idling Stop Vehicle
Achieved to reduce the weight of the 12%. Equipped with the Cold storage evaporator.Is to provide a comfortable cabin air to extend the cold time of idling stop.
Light & Thin Condenser
The Weight reduction of 24% from 16mm Condenser
Micro Organic Rankine Cycle Generator
Smallest in the world , Low cost , Recovery of low-temperature waste heat. Low-temperature waste heat can be converted into the electric power in various places of the heat source.